KMVN Anglo-Chinese Kindergarten . Nursery was established in Aug 2013, co-founded by "Hong Kong Vernacular Normal School Alumni Association" and "Kwok Man School: Cheung Chau Wai Chiu County, Cheung Chau Po On Society and Cheung Chau Tung Koon Association".
Our mission is to help our students to develop in their five main learning areas, including moral, cognitive and language, physical, social and aesthetic, via diversified learning activities. In such way, children can reach their potential and attain knowledge, skills, values and attitudes that lay a good foundation for future learning.
School Registration Number:
Nursery:CCC/683
Kindergarten:527211
Curriculum(With AM, PM and Whole-day Sessions):
Aged 2-3 Class (Playgroup)
Nursery (N1)
Lower & Upper Kindergarten (K1 – K3)
Time:
Monday to Friday
AM Session:9:00 a.m. – 12:00 n.n.
PM Session:1:30 p.m. – 4:30 p.m.
Whole-day Session:9:00 a.m. – 4:30 p.m.
Curriculum Overview & Features
To help students in all-round development and raise their interest in learning, KMVN applies project approach that enable teachers to guide students through in-depth studies of real-world topics. We encourage students to discuss and explore in our school. Our curriculum is designed to pair with different extra-curriculum activities which tightly link up with the learning objectives.
Under a joyful learning environment, KMVN aims to help students in enriching their knowledge, developing their skills and understanding their civil responsibility. In such way, student can build a good foundation for positive personality, attitude and sense of moral.
KMVN also hires native English and Putonghua teachers to equip students with a better biliterate and trilingual capability. To help students to build self-confidence, enrich their knowledge and apply learnt skills, KMVN encourages students to actively participate in different public performances and competitions.
KMVN also designs and customs courses to cater for students' individual differences and abilities in learning. Via continuous assessment, we help parents to have a better understanding about their child's ability as well as strengths and weaknesses. We also hold Parents Days twice a year as well as various seminars and education workshops for parents. We believe that a close Parents-School relationship would provide a better way to nurture our children.
2020-2021 Graduates' Primary School Admission Statistics
SKH Kei Yan Primary School
Extracurricular Activities
Art and Craft
Children are filled with curiosity and innocent ideas about the world. Diversified and interesting artistic creation, display and appreciation activities can develop and cultivate children's imagination and creativity.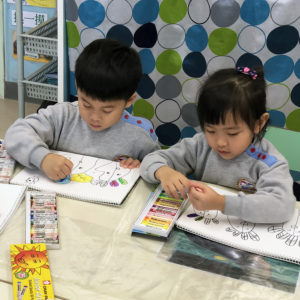 Our school's art and craft classes are designed by experienced teachers. Activities include paintings, graphics, three-dimensional artworks and many more. Teachers aim at raising children's interest in art and enchancing their creativity.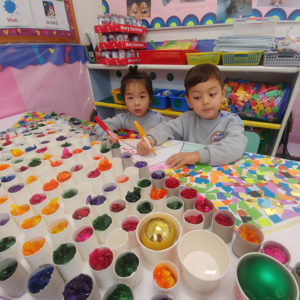 Classes are delivered in groups which help encouraging children to interact with each other. Through the process of peer learning, they will solve problems, learn, share and appreciate together.
Art and Craft
Picture Book Sharing
MI Wednesday
Fun Rope Skipping
Grasshopper Scouts
Happy Bee